Wheelchair Cabinets / ADA Wheelchair Vanities POPLAR WOOD Series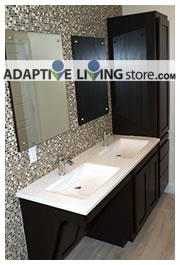 ADA Cabinetry - POPLAR WOOD Series

• Standard, Petite, Euro Depths Available
Home • Multi-Unit Housing
Commercial Offices • Facilities
Call for Project-Specific Solutions
The Adaptive Living Store's Wheelchair Accessible Bathroom Vanities are made in the USA. We use quality hardwoods and unique construction techniques. Our cabinetry is attractive, highly durable, competitively priced and designed for fully enclosed pipes with ample internal storage space.
Hand Crafted • Hand Finished • Ships Fully Assembled
Proudly Created by our American Workforce
Architects, Designers, Remodeling Contractors, Property Managers and Commercial Developers are encouraged to join our
Partner Program
for special pricing and maximum trade discounts on your Single Unit and Multiple Unit Projects.

30" ADA Compliant Wheelchair Vanity Cabinet POPLAR WOOD -- ADA Compliant Wheelchair Vanity Cabinets are created from quality hardwoods. Choose from 6 door styles and 40+ finishes. Features, internal storage behind fully-functional doors.
Buy Now

33" ADA Compliant Wheelchair Vanity Cabinet POPLAR WOOD -- ADA Compliant Wheelchair Vanity Cabinets are created from quality hardwoods. Choose from 6 door styles and 40+ finishes. Features, internal storage behind fully-functional doors.
Buy Now

36" ADA Compliant Wheelchair Vanity Cabinet POPLAR WOOD -- ADA Compliant Wheelchair Vanity Cabinets are created from quality hardwoods. Choose from 6 door styles and 40+ finishes. Features, internal storage behind fully-functional doors.
Buy Now

42" ADA Compliant Wheelchair Vanity Cabinet POPLAR WOOD -- ADA Compliant Wheelchair Vanity Cabinets are created from quality hardwoods. Choose from 6 door styles and 40+ finishes. Features, internal storage behind fully-functional doors.
Buy Now

48" ADA Compliant Wheelchair Vanity Cabinet POPLAR WOOD -- ADA Compliant Wheelchair Vanity Cabinets are created from quality hardwoods. Choose from 6 door styles and 40+ finishes. Features, internal storage behind fully-functional doors.
Buy Now

54" ADA Compliant Wheelchair Vanity Cabinet POPLAR WOOD -- ADA Compliant Wheelchair Vanity Cabinets are created from quality hardwoods. Choose from 6 door styles and 40+ finishes. Features, internal storage behind fully-functional doors.
Buy Now

60" 3 DOOR ADA Compliant Wheelchair Vanity Cabinet POPLAR WOOD -- Recommended for SINGLE BOWL Install. ADA Compliant Wheelchair Vanity Cabinets are created from quality hardwoods. Choose from 6 door styles and 40+ finishes. Features, internal storage behind fully-functional doors.
Buy Now

60" 4 DOOR ADA Compliant Wheelchair Vanity Cabinet POPLAR WOOD -- Recommended for DOUBLE BOWL Install. ADA Compliant Wheelchair Vanity Cabinets are created from quality hardwoods. Choose from 6 door styles and 40+ finishes. Features, internal storage behind fully-functional doors.
Buy Now

72" 3 DOOR ADA Compliant Wheelchair Vanity Cabinet POPLAR WOOD -- Recommended for SINGLE BOWL Install. ADA Compliant Wheelchair Vanity Cabinets are created from quality hardwoods. Choose from 6 door styles and 40+ finishes. Features, internal storage behind fully-functional doors.
Buy Now

72" 4 DOOR ADA Compliant Wheelchair Vanity Cabinet POPLAR WOOD -- Recommended for DOUBLE BOWL Install. ADA Compliant Wheelchair Vanity Cabinets are created from quality hardwoods. Choose from 6 door styles and 40+ finishes. Features, internal storage behind fully-functional doors.
Buy Now
StoreFront
|
Bathroom
|
Wheelchair Cabinets
|
Product Accessories
|
Wheelchair Access
|
Pool Lifts & Beach
|
Grab Bars
|
Wheelchair ADA Showers
|
Cushions Mattresses
|
Walking Aids
The Adaptive Living Store
Home Modification Products for Persons with Disabilities and Senior Living
Adaptive Living Store
eCommerce Solution
by Nexternal