Aquatec Height Adapters
1" Height Adapters for up to 3"
Purchase Aquatec Height Adapters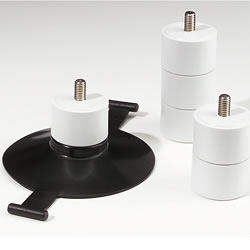 Height adapters, adds up to 3" additional inches to base plate, order in 1" increments. 400C-A15170 must be used for the first inch (w/adapter plug). 400C-A14694 for additional inches, 3" maximum (1 - A15170 and 2 - A14694). Each inch comes in a set of four.
This product is compatible with the following bath lifts:

Please note:
By law, hygiene-related product cannot be returned. Due to this fact, we recommend that you discuss your specific needs with an Adaptive Living Representative and your personal healthcare professional(s) BEFORE purchasing any hygienic product.
This item is a NON-RETURNABLE hygiene-related product.
Purchase Aquatec Height Adapters
SKU: 100TL-400C5
Product: Height Adapters, 1st inch; Height Adapters, addtl inch Replacement; Height Adapters, 2" Total; Height Adapters, 3" Total
Other products in the category Product Accessories / Aquatec Bathlift Accessories:



Rotary Seat Transfer Board Blue rotary seat with transfer board



Aquatec Wedge Cushion Sand filled wedge cushion to help in positioning with bathlift



Aquatec Chest or Pelvic Belts Chest or pelvic belt for Aquatec battery powered bathlifts



Aquatec Bathlift Abduction Piece Abduction Piece for Aquatec battery powered bathlifts



Aquatec Head Support Head support for battery powered bathlifts



Aquatec Bathlift Carry Bag Water resistant carry bag with nylon handles



5" Grey Suction Cup Set of 4 One 5" suction cup, larger for better adhesion



Aquatec Bathlift Battery Charger Battery Charger for Aquatec Bathlifts



Aquatec Bathlift Battery Charger Beluga Battery Charger for Aquatec Beluga, Elan, Fortuna Bathlifts



Aquatec Bathlift Hand Control Replacement Aquatec Bathlift Hand Control



Aquatec Bathlift Hand Control Beluga Replacement Hand Control for Beluga Bathlift



Beluga Aquatec Bathlift 12v Battery Pack 12v Battery Pack for Aquatec Beluga Bathlifts
StoreFront
|
Bathroom
|
Wheelchair Cabinets
|
Product Accessories
|
Wheelchair Access
|
Pool Lifts & Beach
|
Grab Bars
|
Wheelchair ADA Showers
|
Cushions Mattresses
|
Walking Aids
The Adaptive Living Store
Home Modification Products for Persons with Disabilities and Senior Living
Adaptive Living Store
eCommerce Solution
by Nexternal