Dependa-Bar Pivoting Grab Bar
Combination of standard wall mounted grab bar and pivoting & locking dual rail allowing for 5 different positions.
Purchase Dependa-Bar Pivoting Grab Bar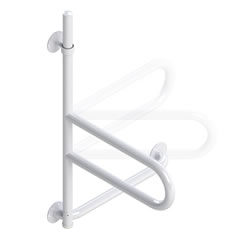 HealthCraft Products Dependa-Bar offers a range of bathtub and shower support. Along with providing traditional grab bar support, the Dependa-Bar features our pivot and lock technology allowing for 5 different positions (one every 45 degrees). This means the Dependa-Bar is where you need it when bathing or showering, and can be locked out of the way against the wall when not being used.
Dependa Bar Features:
Rail Diameter: 1.25"
Pivot Rail Length: 18" (20" from bathroom wall)
Pivot Rail Locking Positions: 5 (every 45 degrees)
Fixed Grab Bar Length: 18"
Material: Stainless Steel
Finishes: Anti-microbial white powder coat or Knurled
Weight Capacity: 325lbs
Installation by Contractor Recommended
Dependa Bar Benefits:
Stainless Steel Construction Unlike zinc or chrome plated grab bars that can chip, rust and stain tile over time, the stainless steel Dependa-Bar™ will never rust. Available in White Powder Coated or Knurled.
Optional Bath Board Maximize bathing safety with a beautifully contoured plastic seating surface that includes a soap dish and handle. Fits most standard bathtub widths (15"-25"/40-60cm).
Pivoting & Locking Technology Dependa-Bar™ locks every 45 degrees (5 positions), providing a support rail that moves with user.
Reversible Bottom grab bar can be mounted for either left or right side applications.
Versatile Can be installed in the bathtub or beside the toilet.

Ease of Installation Mounts securely to structural studs behind bathtub wall of any construction (fiberglass, plastic, tile wall, etc.). Bolt pattern compatible with WingIts™ Fastening System (sold separately) if wall stud spacing does not allow for direct mounting.
ADA Compliant Fixed horizontal grab bar (1" dia) has 1" clearance from wall. When locked against the wall, the Dependa-Bar™ is aligned with the fixed horizontal grab bar.
Weight Capacity, 325lbs/147kg.
Note: The Dependa-Bar™ should only be installed in areas where the mounting surface is structurally sound. If you are not equipped to undertake the outlined work we recommend that you have your Dependa-Bar™ installed by a qualified contractor. The Dependa-Bar™ must be secured to wall with fasteners appropriate to the structural material. Fasteners must be rated for certain retention force each for maximum weight capacity (see within for recommendations). Mounting fasteners should be inspected monthly and tightened if necessary. Rail is capable of supporting a maximum suggested user weight of 325lbs/147kg. Due to variances in needs, materials and local construction methods, the information contained within concerning mounting location, fasteners and wall fabrication is provided as suggestion only. Consult the appropriate local professionals for best advice.
Purchase Dependa-Bar Pivoting Grab Bar
SKU: 600H-DB-18
Finish Color: White Stainless Steel; Knurled Stainless Steel
DELIVERY: FREE SHIPPING
Other products in the category Grab Bars / Folding Grab Bars:



PT Rail Hinged Grab Bar Sturdy hinged grab bar with offset support rails to help reduce wrist strain, available for wall or floor mount.



PT Rail Angled Grab Bar Hinged support bar for sunken living rooms, decks, patios or garages with 2 or 3 steps



Contractor Series Folding Grab Bar Folding safety support made of corrosion resistant, zinc coated steel, available in 5 colors.



Folding Grab Bar Maxima Maxima folding grab bars, colors available.



Folding and Rotating Grab Bar Maxima Maxima folding and rotating grab bar, colors available.



Folding Grab Bar Toilet Armrest PUR Series Folding grab bar with aluminium body and fixing flange, with polyurethane armrest and flange cover, available in black or grey.



Folding Grab Bar Toilet Armrest Ergonomic design folding rail, available in 3 sizes, white.
StoreFront
|
Bathroom
|
Wheelchair Cabinets
|
Product Accessories
|
Wheelchair Access
|
Pool Lifts & Beach
|
Grab Bars
|
Wheelchair ADA Showers
|
Cushions Mattresses
|
Walking Aids
The Adaptive Living Store
Home Modification Products for Persons with Disabilities and Senior Living
Adaptive Living Store
eCommerce Solution
by Nexternal