Folding Grab Bar Toilet Armrest
Ergonomic design folding rail, available in 3 sizes, white.
Purchase Folding Grab Bar Toilet Armrest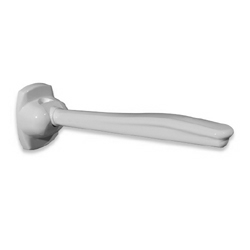 These ergonomic design folding rails are an important feature for persons requiring some support near the toilet. Manufactured from warm to touch PE-LD material and strengthened with a steel tube running through the core. The fixing plate is made from stainless steel and has a special plastic gasket which prevents damage to the wall or tiles. Inside the bracket there is a safety system which prevents the rail from crashing down but controls the speed of the lowering.
Technical Data Sheet G27JCS83
Please allow 2 day lead time. The Adaptive Living Store can not cancel, return or refund custom order items.
Please note: By law, hygiene-related product cannot be returned. Due to this fact, we recommend that you discuss your specific needs with an Adaptive Living Representative and your personal healthcare professional(s) BEFORE purchasing any hygienic product. This item is a NON-RETURNABLE hygiene-related product.
Purchase Folding Grab Bar Toilet Armrest
SKU: 801P-G27JCS
Length: 18"; 24"; 30"
DELIVERY: FREE SHIPPING
Call For Available: Multi-Unit Discounts
Other products in the category Grab Bars / Folding Grab Bars:



PT Rail Hinged Grab Bar Sturdy hinged grab bar with offset support rails to help reduce wrist strain, available for wall or floor mount.



PT Rail Angled Grab Bar Hinged support bar for sunken living rooms, decks, patios or garages with 2 or 3 steps



Contractor Series Folding Grab Bar Folding safety support made of corrosion resistant, zinc coated steel, available in 5 colors.



Dependa-Bar Pivoting Grab Bar Combination of standard wall mounted grab bar and pivoting & locking dual rail allowing for 5 different positions.



Folding Grab Bar Maxima Maxima folding grab bars, colors available.



Folding and Rotating Grab Bar Maxima Maxima folding and rotating grab bar, colors available.



Folding Grab Bar Toilet Armrest PUR Series Folding grab bar with aluminium body and fixing flange, with polyurethane armrest and flange cover, available in black or grey.
StoreFront
|
Bathroom
|
Wheelchair Cabinets
|
Product Accessories
|
Wheelchair Access
|
Pool Lifts & Beach
|
Grab Bars
|
Wheelchair ADA Showers
|
Cushions Mattresses
|
Walking Aids
The Adaptive Living Store
Home Modification Products for Persons with Disabilities and Senior Living
Adaptive Living Store
eCommerce Solution
by Nexternal