ProWave Pool Exercise Bike
The ProWave Pool Bike is one of the safest and most effective ways to get fit and stay healthy.
Purchase ProWave Pool Exercise Bike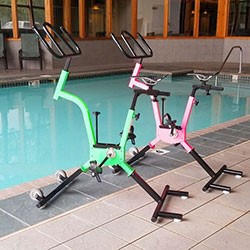 Aquatic exercise is one of the safest and most effective ways to get fit and stay healthy. The ProWave pool bike offers an incredible physical, cardiovascular, and most importantly, FUN workout right in your own pool! The unique flywheel design provides a smooth operation and you can adjust your resistance to create a more invigorating workout with the simple turn of the tension knob. These features, along with fun color choices, make this a great bike for aquatic spin classes. Add the optional training bar to the rear of the bike and you can perform other exercises such as sit ups, swim kicks, and many others to give a complete workout.
Features/Benefits:
300 lb (136 kg) weight capacity
Recommended pool depth: 42-in. – 60-in. (1.1 m – 1.5 m)
Adjustable seat & handlebars
Multiple levels of resistance
Barefoot use
Scratch resistant transport wheels
Durable powder-coat finish
Multiple colors to choose from
3 year warranty on frame
1 year for parts & transmission
Made in the USA
Lead Times: Please call for current seasonal lead times.
Please check all shipments at time of delivery. In the rare event a shipment is damaged, please notify the carrier immediately upon delivery and refuse the shipment. Additional shipping fees may apply based on delivery arrangement needs.
Purchase ProWave Pool Exercise Bike
SKU: 700A-F-PWRWV
Choose Color: NEON GREEN; NEON PINK; NEON YELLOW
DELIVERY: FREE SHIPPING
Call For Available: Partner Program Discounts
Other products in the category Pool Lifts & Beach / Pool Exercise:



Aqua Walker Adjustable, waterproof walker aids in independent mobility in the pool.



Swim Training Platform Swim training platform is an affordable, light-weight, well built, training tool for swim instructors



Tidalwave Aquatic Exercise Bike The Tidalwave Aquatic Exercise Bike offers a unique flywheel and folding v-frame design.
StoreFront
|
Bathroom
|
Wheelchair Cabinets
|
Product Accessories
|
Wheelchair Access
|
Pool Lifts & Beach
|
Grab Bars
|
Wheelchair ADA Showers
|
Cushions Mattresses
|
Walking Aids
The Adaptive Living Store
Home Modification Products for Persons with Disabilities and Senior Living
Adaptive Living Store
eCommerce Solution
by Nexternal