PT Rail Hinged Grab Bar
Sturdy hinged grab bar with offset support rails to help reduce wrist strain, available for wall or floor mount.
Purchase PT Rail Hinged Grab Bar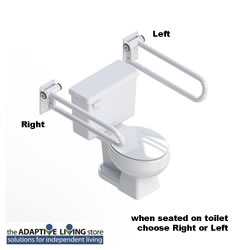 HealthCraft Products PT Rail Hinged is a wall mounted or floor mounted support rail which promotes safe standing and transfers to and from a toilet. An innovative offset rail design helps to reduce wrist strain (when gripping the lower rail). Additionally, when not in use, you can lift the PT Rail up and store it against your bathroom walls.


PT Rail Features:
Rail Length: 28", 32" or 36"
Order Right or Left (when seated on toilet choose right or left)
Rail Diameter: 1.5"
Material: Alloy steel
Finish options: White powder coat, Brushed Stainless Steel, Chrome Plated Steel (minimum of 5 units per order for Chrome Plated Steel—call to order)
Weight Capacity: 400lbs
Installation by Contractor Recommended
PT Rail Benefits:

Secure. P.T. Rail™ provides rigid support where it is needed - on one or both sides of the toilet.

Safe, out of the way storage. Our hinged model folds up to store out of the way, yet pulls down in an instant when needed. Smooth "fluid feel" hinge holds its position wherever you leave it - even halfway up - it will not inadvertently fall down causing impact injuries.

Prevent Wrist Strain. Unlike vertically aligned dual rails, the P.T.Rail™ features an offset rail design. This allows for improved use of the lower rail and helps to prevent wrist strain when reaching for the lower rail.

Unmatched Sturdiness. Unlike other fold down rails that wobble, the P.T.Rail's™ machined, precision, tension fit hinge creates stable, rock solid support. A proven rail designed to suit home or institutional use.

Add a Toilet Roll Holder to any P.T.Rail™ to eliminate the need for unnecessary reaching and twisting.
Note: The P.T. Rail™ should only be installed in areas where the mounting surface is structurally sound. If you are not equipped to undertake the outlined work we recommend that you have your P.T. Rail™ installed by a qualified contractor. The P.T. Rail™, ( or P.T. Rail with Floor Mast) must be secured to wall (or floor) with fasteners appropriate to the structural material. Fasteners must be rated for certain retention force each for maximum weight capacity. Mounting fasteners should be inspected monthly and tightened if necessary. Rail is capable of supporting a maximum suggested user weight of 400lbs. Due to variances in needs, materials and local construction methods, the information contained within concerning mounting location, fasteners and wall fabrication is provided as suggestion only. Consult the appropriate local professionals for best advice.
Purchase PT Rail Hinged Grab Bar
SKU: 600H-PT-WR
Configuration: Right; Left
Mounting Option: Wall Mount; Wall Mount with Wood Wall Plate; Floor Mount with Mast
Length: 28"; 32"; 36"
Finish: White Powder Coat; Polished Chrome; Stainless Steel
DELIVERY: FREE SHIPPING
Call For Available: Partner Program Discounts
Other products in the category Grab Bars / Folding Grab Bars:



PT Rail Angled Grab Bar Hinged support bar for sunken living rooms, decks, patios or garages with 2 or 3 steps



Contractor Series Folding Grab Bar Folding safety support made of corrosion resistant, zinc coated steel, available in 5 colors.



Dependa-Bar Pivoting Grab Bar Combination of standard wall mounted grab bar and pivoting & locking dual rail allowing for 5 different positions.



Folding Grab Bar Maxima Maxima folding grab bars, colors available.



Folding and Rotating Grab Bar Maxima Maxima folding and rotating grab bar, colors available.



Folding Grab Bar Toilet Armrest PUR Series Folding grab bar with aluminium body and fixing flange, with polyurethane armrest and flange cover, available in black or grey.



Folding Grab Bar Toilet Armrest Ergonomic design folding rail, available in 3 sizes, white.
StoreFront
|
Bathroom
|
Wheelchair Cabinets
|
Product Accessories
|
Wheelchair Access
|
Pool Lifts & Beach
|
Grab Bars
|
Wheelchair ADA Showers
|
Cushions Mattresses
|
Walking Aids
The Adaptive Living Store
Home Modification Products for Persons with Disabilities and Senior Living
Adaptive Living Store
eCommerce Solution
by Nexternal