SuperPole Ceiling Plate Extender
Allows standard ceiling plate 20" length to span 30" with holes for ceiling attachment to 24" ceiling beam centers.
Purchase SuperPole Ceiling Plate Extender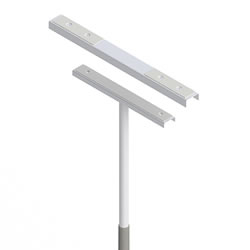 The Ceiling Plate Extender is added to the standard SuperPole™ top plate to increase its span from 20" to 30". It may be used in cases where the SuperPole™ is expected to be subjected to more aggressive use, or where structural beams have increase spacing (such as 24" between centers).
Purchase SuperPole Ceiling Plate Extender
Other products in the category Product Accessories / HealthCraft Products Accessories:



PT Rail HealthCraft Accessories Floor Mast, Wall Mount Plate, Toilet Roll holder for HealthCraft PT Rail



Advantage Rail or Advantage Pole Portable Floor Plate Install Floor Plate to use HealthCraft Products Advantage Rail Portable or Advantage Pole Portable in multiple locations.



SuperPole Angled Ceiling Top Plate SuperPole top plate for angled ceilings, pole not included.



SuperPole Uni-Fit Extender Increases SuperPole floor to ceiling range from 93"-99 to 100"-120"



SuperBar Add On Kit SuperBar Add On Kit to be used with the SuperPole



Safe Latch Assembly Smart Rail Replacement part Safe Latch Assembly for HealthCraft Smart Rail



SNAPTOGGLE® Toggle Bolts Grab bar anchoring, box of 10



SuperPole Base Plate Assembly Replacement Part SuperPole Base Plate Assembly
StoreFront
|
Bathroom
|
Wheelchair Cabinets
|
Product Accessories
|
Wheelchair Access
|
Pool Lifts & Beach
|
Grab Bars
|
Wheelchair ADA Showers
|
Cushions Mattresses
|
Walking Aids
The Adaptive Living Store
Home Modification Products for Persons with Disabilities and Senior Living
Adaptive Living Store
eCommerce Solution
by Nexternal